One of the best ways to show your support for League of Legends - outside of the rift - is to buy League of Legends merchandise to wear or put around your home. There are tonnes of League of Legends merchandise shops all over the internet, so it can be difficult to find one offering what you want. With this in mind, we've placed vision wards all over the internet to reveal some of the best online League of Legends merchandise stores. We encourage all users to always check the reviews of the stores to ensure that the quality of the goods is to the standard that you expect.
League Of Legends Official Merchandise Store
What better place to start our list of League of Legends merchandise stores than the official Riot shop? The Riot Store is full of awesome figures, cuddly plushies and eye-catching apparel. It's an easy to use website with great shipping and fantastic prices. If you ever want to get a figure of your favourite champion or are looking for clothing with fantastic quality then the Riot store is the perfect place for you.
ESL Store
Although ESL offers a few meme shirts, their main focus is on selling team specific merch! Chanting "TSM" in a crowded stadium not enough for you? Well, now you can show your favourite teams just how much you love them by covering your clothes with their logos!
All ESL merch is reasonably priced, with many insane discounts regularly offered – some items are over 85% off! But it doesn't stop there either. Not only does ESL offer the merch of many great teams, but popular streamers such as Sp4zie and SivHD too! Check them out by heading over to the ESL Store!
eBay Online Store
If you haven't purchased something off of ebay already, chances are you've at least thought about it. Some people aren't interested because they don't want to buy second hand products, but you can get brand new merch from ebay too!
In fact, it's probably one of the best places to do so! However, there is more chance of a dispute occurring over eBay, as often times you're not trading with an incorporated company. Ebay does have rules in place to help keep you from being scammed – still, some people prefer to use the other sites on this list, we recommend you take a look at eBay!
J!NX Clothing Store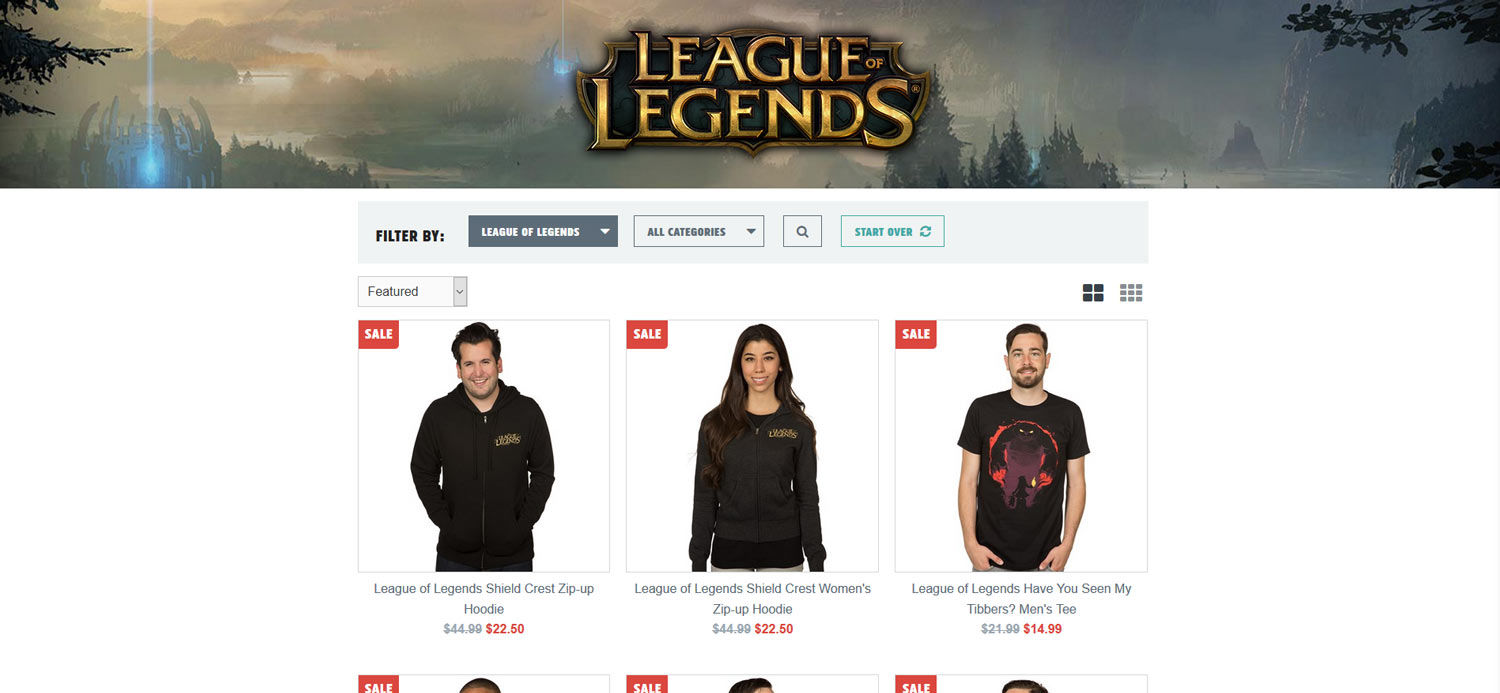 If you want your clothes to do puns of damage then a great place for League of Legends merchandise is the J!NX clothing store. They have fantastic reviews and even ship their great quality clothing to Europe with a fair shipping time and delivery cost. This is a reputable League of Legends merchandise store which offers a wide range of unique t-Shirts for all players and we highly recommend that you use it for your clothing needs.
Redbubble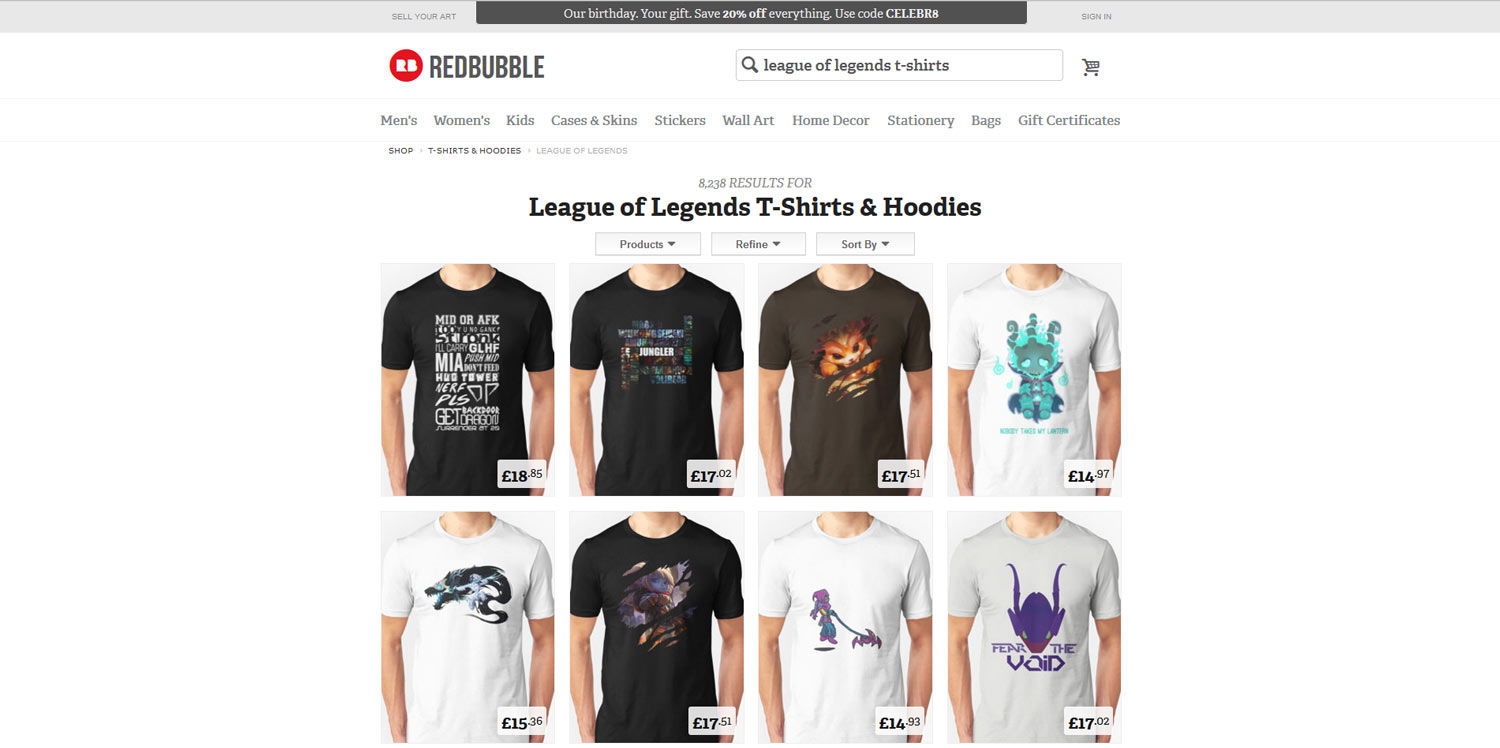 Redbubble is a different League of Legends clothing store to J!NX because it allows users to upload their own designs. There are currently over 8000 different designs for you to choose from and their clothing is good quality and well printed.
 You can also buy the designs in a sticker format if you decided you didn't want any more clothing cluttering up your wardrobes. The League of Legends merchandise from this store would easily impress your friends and make you the talk of the town.
League Of Legends Merchandise from Etsy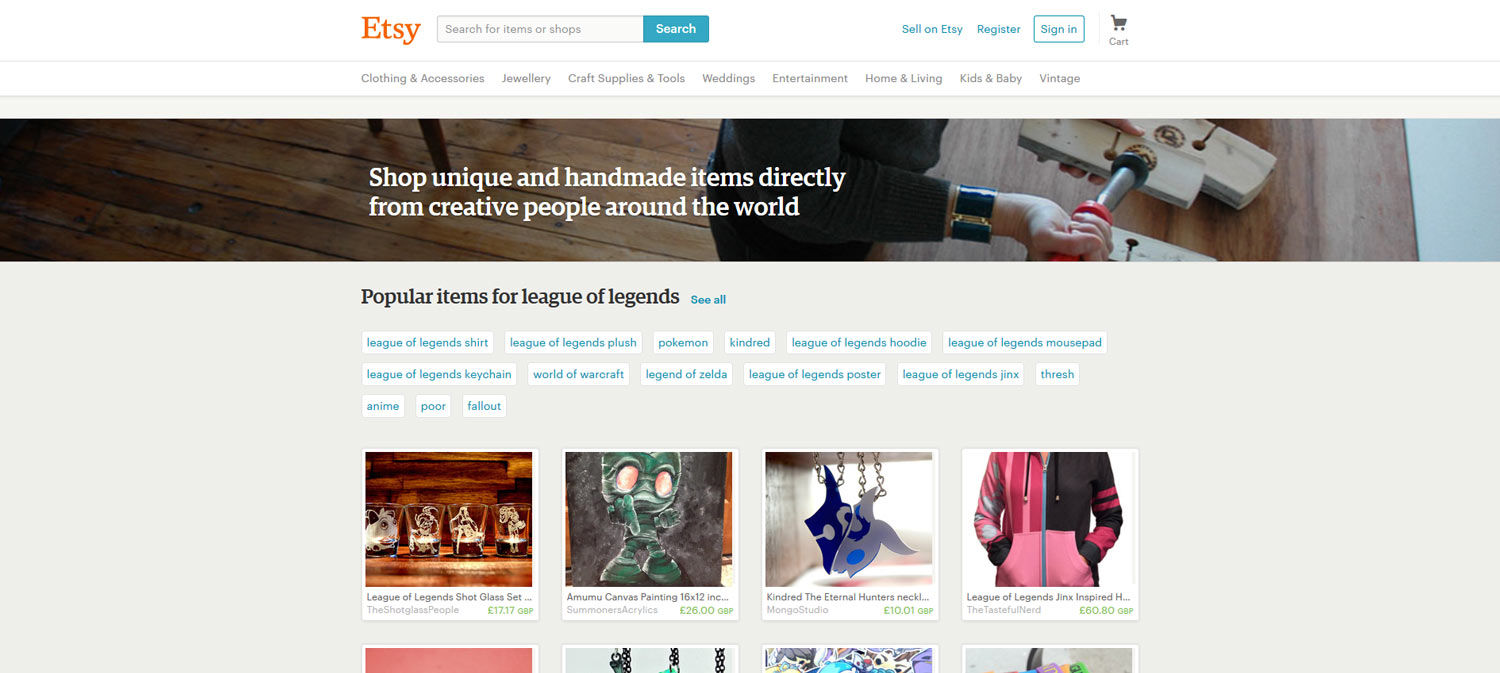 If you aren't exactly aware on what Etsy is then you're in for a treat. Etsy is a marketplace where people can sell their own custom-made League of Legends merchandise for a fair price. This store has hundreds of unique products that have been handmade by some of the most creative League of Legends fans.
 It's a great place where you can pick up artwork, clothing, accessories and even things as unique as cutlery or key rings. It's one of the best places to pick some fantastic League gear to impress everyone you meet, unless they don't play League of Legends.
OverPowear League Of Legends Clothing Store
OverPowear are a new League of Legends clothing brand with some awesome and funny LoL related tee-shirt designs. Based in the USA and with really reasonable pricing, they're a good alternative to the more established stores like J!NX. They also have League of Legends tshirts designs that won't be found anywhere else, so you know what you're buying is unique! Check them out by heading over to OverPowear.com