So you've bought your new League of Legends smurf account (congratulations!) but now you want to get it ranked and get those awesome end of season rewards. Well, you've got three options, so let's take a look at them:
1 - Spend Hours Ranking it Yourself
Many players will choose to rank their LoL accounts themselves, but a lot don't realise just how much time it takes! In order to get your end of season rewards, you will need to be placed in at least Gold V – which is above the average rank. Getting to Gold V alone can take months of practice and playtime with the higher ranks taking even longer. Not to mention the immense amount of frustration in trying to rank up (anyone who's ever tried it will know what we mean!). If you want to spend hours and hours of frustration ranking up your account then be our guest, but there are some easier ways…..
2 - Buy A High-End LoL Account
Our High End LoL Accounts often come already ranked, with some even appearing in high Diamond. This is the quickest and easiest way to rank your LoL account and you can even get some cool skins like Black Alistar, Championship Riven and King Rammus! Buying a high-end LoL account does cost a little more than an ELO boosting service, but you do get super rare skins to compensate for that. If you're not looking for some rare LoL skins then option 3 is probably your best bet.
3 - Use an ELO Boosting Service
ELO boosting services are a great way to quickly rank up your account, be it a LoL smurf account or your actual main LoL account. Be warned though that there are some less desirable ELO boosters out there who will scam you – if ELO boosting then only use the ELO boosting services on our list below. These are the best LoL ELO boosting services around and we can vouch for all of them!
The Best ELO Boosting Services
The Best LoL ELO Boosting Services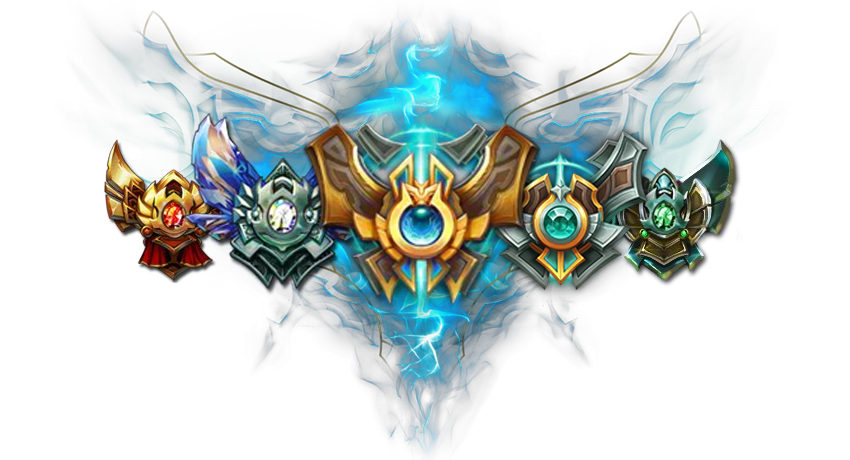 Let's face it, there are many League of Legends boosting services out there, but only 1 can be the best. You may be surprised, but you're actually looking at them right now.
Having sold thousands of League of Legends smurf accounts over the last 4 years, we've developed a strong reputation as the best smurf seller in the business. Thanks to our dedicated support team, lifetime guarantee and an amazing range of accounts, our customers have given us an impressive 4.8 / 5 on Reviews.io. With over 1,500 verified purchases from our happy customers, that makes us the highest rated and best smurf seller in the industry.
Building on our solid reputation as a smurf seller, we now offer League of Legends boosting services which truly put us in a league of our own. Unlike our competitors, we focus on outstanding customer service to build lifelong relationships with our clients.
Of course, there are plenty of other LoL boosting services out there, but they're not all what they seem.
Not only do some of them use hacks to reduce the boosting time, but they also put your account at risk by not using a VPN. By using the same IP address to play on hundreds of accounts, if 1 League of Legends account gets banned then everyone else's will. Do you really want to risk that on your account?
When it comes to getting your account boosted in League of Legends, there are a few things you need to check before buying. By checking for these before you hand over your money, you can avoid disappointment and frustration further down the line. Here is a checklist of things to check with any League of Legends booster before you buy any boosting.
Do They Offer PayPal?
PayPal is a huge payment provider and only work with the best and most trustworthy companies. If a boosting service does not have PayPal, then you won't be protected if anything goes wrong. Boosters who don't use PayPal often have a bad reputation and use other payment methods that don't have a chargeback option. This means as soon as you hand over the money you'll never get it back. Here at UnrankedSmurfs.com we've used PayPal for over 4 years to give our customers confidence when shopping with us. Not only is PayPal trusted, but it's also very secure and keeps all of your payment details safe.
Do They Have A Social Media Presence?
Good boosting services will have a significant social media presence on platforms such as Facebook and Twitter. Not only does this help as a platform for customers to share their reviews, but it is also a place to get support in case anything goes wrong.
Bad boosters often won't have any social media profiles at all, and the ones that do will be very inactive and have little followers. This means when somebody posts a complaint or query, it will often be ignored (or worse deleted!).
Unlike other boosting services, we have Facebook and Twitter profiles with thousands of followers that are regularly updated. With that many amount of followers, you can be sure we have an excellent reputation.
Do They Offer Live Match Updates?
When boosting your account it's important to see how your booster is doing. Imagine you paid someone to boost your account and they lost 10 games in a row, do you think they would tell you? Probably not.
A good boosting service will give you live up to date match results to show you how well they are doing. Not only does this make the booster more transparent, but it also means you can make sure they are doing their job and not hiding anything.
Our system allows you to track the matches on your account so you know exactly how many matches we've played and what the outcome was. This shows you that we're doing our job and gives you a good idea of how many matches are left before you reach your desired rank.
Do They Let You Choose Champions?
Sometimes boosters let you choose the champions and position that they play in. This is great for convincing your friends you climbed the ladder yourself. If you normally play top lane with Renekton and Irelia but suddenly have 40 games playing bot lane with Vayne, it can look very suspicious.
At UnrankedSmurfs.com we let you choose exactly what role you want us to play and with which champions. By doing this, we make you match history look a lot more natural and less suspicious. Other boosting services will just play the same champion in the same lane over and over again which doesn't fit everyone's match history.
Not only does this look obvious that you've been boosted but it will also affect your permanent stats. If someone sees your incredible Vayne win percentage then they'll expect you to be good at Vayne. How weird would it look when you struggle to get a kill?
Do They Offer Booster Chat?
Once your boosting is underway, you won't be able to login to your account. The last thing you want is the booster being disconnected from the server! If you need something doing to your account while the booster is playing then you'll need to contact them in game. Not every boosting service does this, but here at UnrankedSmurfs.com we offer a special booster chat feature.
While the booster is playing on your account you'll be able to message them at any time using our own unique messaging system. Maybe you want them to change position and champions or to turn off their in-game, whatever the reason you can speak to them in game using the booster chat.
Do They Use A VPN?
When it comes to account security UnrankedSmurfs.com takes it incredibly seriously. We use unique VPNs from your particular country to ensure there is nothing suspicious about your login patterns.
Other League of Legends boosting services will use the same IP address over and over again which is a bad thing. As mentioned before, using the same IP over multiple accounts significantly increases the chances of getting banned. And it won't just be 1 account that gets banned, usually every account used on the IP address will face the ban hammer.
To stop this from happening to your account, we use a unique IP address from your country for every account. This means there is no chance of you getting banned and no suspicious login patterns of you logging in from another country.