UnrankedSmurfs has been entrusted by tens of thousands of League of Legends players over the last 6 years. We are the number one brand for smurf accounts in League of Legends according to over 5000 reviews.We are honored of such high regard and are proud to provide you with the high quality service you deserve. We have built a brand you can trust wholeheartedly.
That's why we are excited to announce our expansion into the ELO boosting industry, where trust between customers and the company is even more important. Afterall you wouldn't let a complete stranger login to your League of Legends account worth thousands of dollars. We believe that our integrity and knowledge will help us provide you with the best service possible. After all, we are no stranger to the concept of reliability and safety.
Over the past year we have been carefully testing hundreds of players, all ranked GrandMaster or higher, to make sure we can meet the demand and not surrender an inch of quality you are all so familiar with. We have made a selection of exceptional players that will without a doubt do what needs to be done. The selection process has been quite tedious, but in the end we know it will be all worth it.
But before we get carried away, one of the most recognizable parts of UnrankedSmurfs is lifetime warranty for our accounts. That's why our Boosting service will share the same feature. We will cover all bans or restrictions you might get for boosting so you can get your dream rank completely stress free. It's a feature we found surprisingly lacking in the boosting industry and believe it's something that should be the norm. If anything wrong happens with your account due to our activity you will get a new account of similar value.
We have built a completely new website for boosting, with the same highly polished feel that you have gotten used to at UnrankedSmurfs.You can give it a test ride on our demo customer portal here.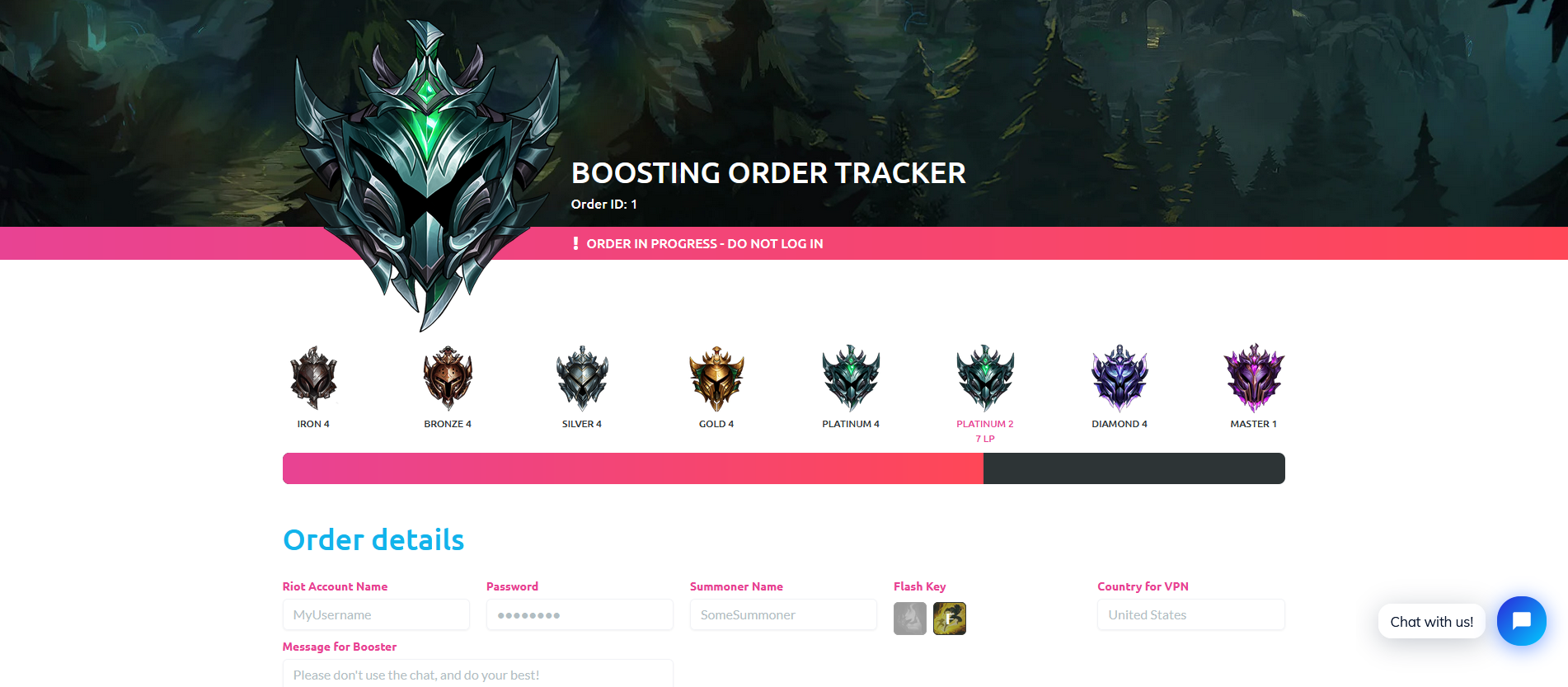 Our mission / What you can expect
We are not just entering the market, we are making a statement. We're on a mission to change boosting for the better. We want to make it more accessible, cheaper and safer for every summoner, while maintaining high quality of service. No matter if you're starting from Iron IV, or want to step up from Grandmaster to Challenger, our boosters are standing by to help. We expect that due to our diligence and skill-set we are going to be able to provide better service than any other website out there. Here are some of the features you can expect on our boosting website:
We offer 24/7 Customer support.
Offline mode so your friends don't message us
Obligatory VPN that matches location you usually play from
Results or money back guarantee
We offer transparent pricing; no hidden fees, no hidden addons, no hidden extras.
Real time order tracking on our panel, check demo here.
In conclusion we are one of the best in business, if not the best, and will redefine rules of the game. We offer great service for good prices. If you feel like you have been stuck at certain elo for a while now, do not hesitate and try out our services. It's not just an elo boost, it's a whole experience.