Yearning for a new, exciting twist to your Summoners Rift games? Craving for a challenge that pushes your strategy and skill to the limit? Look no further! We present to you an ultimate League of Legends Smurf challenge that offers not only thrill and excitement, but also a chance to win up to 500 dollars!
To level the playing field only fresh Blue Essence accounts purchased from us are eligible to participate. This ensures an equal starting line for all the contestants, irrespective of their previous experience.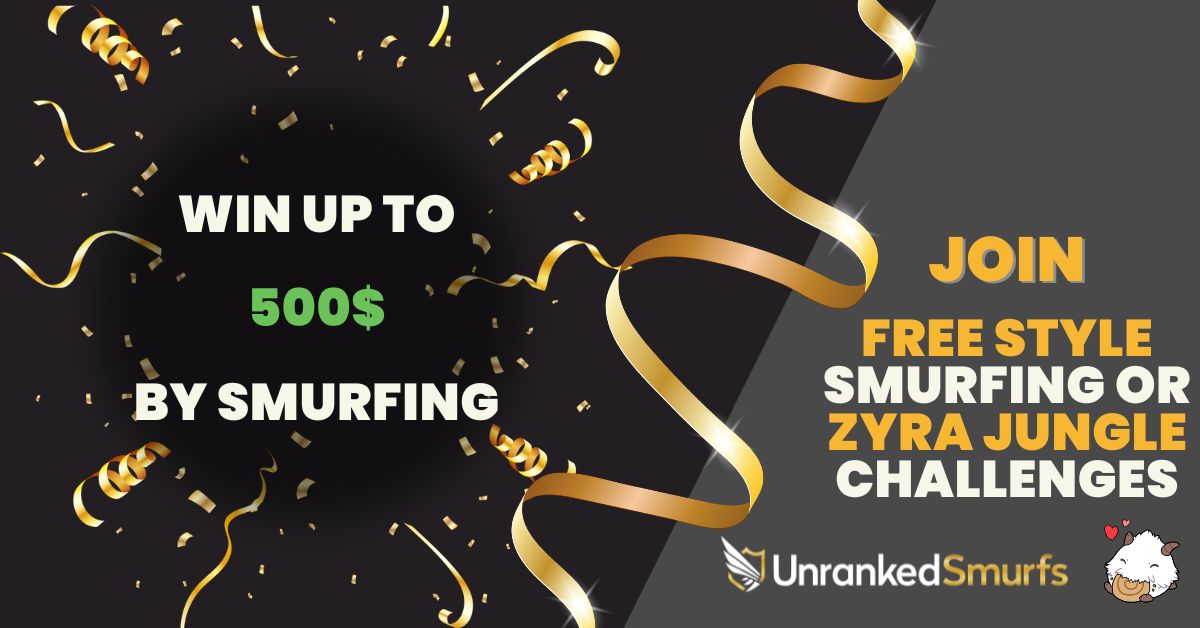 Challenge 1: The Zyra Jungle Conqueror
Firstly, let's dive into the nitty-gritty of this challenge.
The challenge? Climb the ranks using only Zyra in the Jungle. Zyra's Jungle clear just received a much-needed boost, making her a formidable choice for this mission. It might seem daunting, but remember - it's the strategy that counts!
This isn't a race against time; it's a test of your efficiency and strategic skill. The rewards are plentiful for those who dare to defy the odds:
Reach Gold tier with the least games played (at least 75% as Zyra Jungle) and secure a cool 100 dollars.
Ascend to Platinum 4 with the least games played and cash in a sweet 250 dollars.
For the legends who conquer Diamond 4 in record games, a hefty prize of 500 dollars awaits.
To maintain the challenge's integrity, duo queuing is off the table.
Challenge 2: Speedrun to Victory
For those who enjoy a more free-form approach, we offer an alternative challenge. Starting again with a brand new Blue Essence account, your goal is to climb the ranks as quickly and efficiently as possible.
Rake in rewards as you defy the odds:
Reach Gold tier with the least games played to win 100 dollars.
Ascend to Platinum 4 with minimal games to earn 250 dollars.
The brave souls who climb to Diamond 4 in record games will be rewarded with a whopping 500 dollars.
In this challenge, duo queuing is allowed, but remember, you'll need two BE accounts for that. Not to worry, we've got you covered!
Upon claiming victory, take a screenshot of your post-game screen and email it to [email protected] to claim your reward. The victorious will be announced on our social media channels.
These challenges are all about efficiency, strategy, and skill. They're about proving that you're a true champion in the League of Legends.
Are you ready to unleash your gaming prowess and rise to the top? If so, accept the challenge! So gear up, play smart, and show the world what you've got!