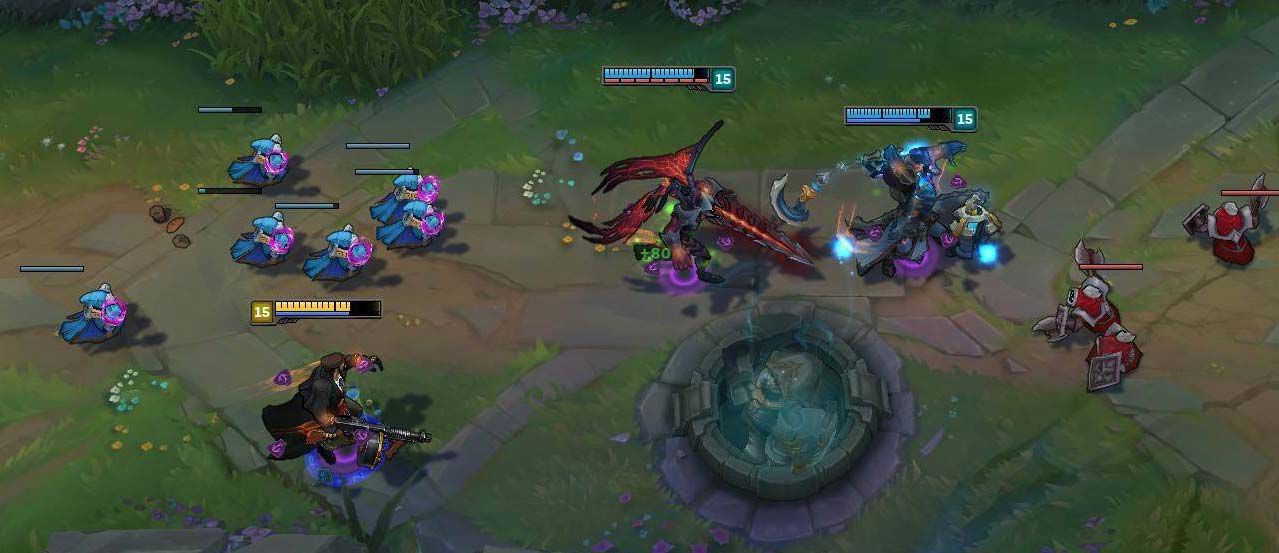 What Is A League Of Legends Smurf Account?
If you landed on this page looking for blue smurfs, then you've come to the wrong place. However, if you're looking for the highest quality League of Legends smurf accounts and unranked smurf accounts then you won't find a better site. For those of you that don't know what a League of Legends smurf account is, let us explain. When you first make an account on LoL everyone starts at level 1 by default. This limits the number of summoner spells, champions, runes, masteries and game modes available. Boring!
The good news is as you play games and level up, you'll slowly unlock new summoner spells and more features in game. The bad news is this can take a very long time. By the time you eventually reach level 30 you'll finally unlock the ability to play ranked matches. Ranked matches are where the fun in League of Legends begins. By playing ranked matches with your friends, you compete with other players to become the best.
Unfortunately, like we previously said, in order to play ranked matches, you need your lol account to be level 30. Since it can take a very long time to reach that, we've come up with a faster way. For less than $1 a level, you can buy a level 30 LoL account that is ready to play in ranked. This means you can simply buy an account, log in and you can jump right onto the rift without having to spend months leveling up.
This means you can simply buy an account, log in and you can jump right onto the rift without having to spend months leveling up. "
As you can see, with the amount of time saved by buying a game account, it's easy to see why they are so popular. This has led to an explosion in the Smurf market, with hundreds of different game account sellers out there. Unfortunately, most of these people do not care about their customers and offer dodgy accounts with high ban rates. We're so sure of our accounts we offer a lifetime Warranty. In the small chance you encounter any problems, our support is rated 4.79 stars by 7845 reviews so you can rest assured you're in safe hands. That's why we're confident to say that Unranked Smurfs beats them all.
Why Buy Lol Accounts From Unranked Smurfs?
If you've done a search online for cheap LoL smurfs, then the chances are you've seen the hundreds of different smurf account sellers out there. So why should you buy a LoL account from Unranked Smurfs instead of someone else? We thought you'd never ask! Not only do we offer instant on-screen delivery on all of our smurf accounts, but we also provide the full recovery details just in case you forget your details. You'd be surprised how often it happens, but don't worry, you'll have everything you need to reset your LoL account. Think we're the best place to buy a League of Legends game account yet? Don't worry, we're just getting started.
Not only do we offer all of that, but we also have a super secure website with SSL encryption technology to make sure that you're protected from any hackers. Combine this with our secure & audited payment processor and your payment details are completely safe. Finally, let's get down to our accounts. Our accounts are amazing, in fact, they're the BEST out there. Many other smurf account sellers will sell you cheap crappy accounts that have obviously been botted - ours are hand leveled by real players.
Not only do these accounts get instantly banned, but they don't come with any Blue Essence, runes or rune pages. Think about it, if you pay a low price then you're getting a mass-produced account that is likely to get banned. When the seller then refuses to answer their support email you'll have less money and no League of Legends account. Here at Unranked Smurfs our accounts are very different. Our accounts are what really separates us from our competition. If you've had accounts banned in the past, then you'll know how much of a waste of time and money it can be. Not only did you spend $20 buying the account, but you also invested a lot of time and effort into playing your placements. Imagine spending weeks reaching Platinum only to log in one day and find out your game account has been banned. Trust us; we know how it feels.
If you pay a low price then you're getting a mass-produced game account that is likely to get banned. "
Over 5000 Genuine
5* Reviews

Buy League Of Legends Accounts From Unranked Smurfs
If you're tired of being scammed by cheap LoL smurf sellers, then you've come to the right place. Unranked Smurfs was founded over 4 years ago by people who used to buy smurf accounts just like you. Fed up of the poor customer service and being regularly banned, we set out on a mission to make a difference. After years of hard work and making sure our LoL accounts are of the highest quality, it's safe to say we have the best League of Legends accounts on the market. We accept all major credit cards for account payment, backed with our payment security guarantee.
We offer game accounts across all regions including North America, Europe West, Nordic East, Public Beta Environment, Latin America North and more. "
But don't just take it from us, we're bound to say that! Check out our independent (that means we can't edit or control them)
review collector
where we have 7845 legitimate reviews with 99% of them being above 4 stars. While we are not the oldest League of Legends smurf seller out there, we are proud to say that we are the most honest and the only to provide full account information with every order. We take care of our customers until they are satisfied because we used to be customers ourselves. If you have any problems with your account or account information, then we won't leave you stranded. We've invested a lot into our support team, and they'll be with you every step of the way. To show you how much we care about our customers, we offer a free lifetime warranty with all of our League of Legends accounts and provide full account information with every order.
That's right, if you buy a League of Legends account and it gets banned for botting anytime in the future, we'll replace it for FREE. Back when we first started in 2014, nobody in the smurf account industry offered warranties. We thought this was unacceptable and made the industry look highly suspicious and dodgy. To make customers feel more safe when shopping, we introduced the lifetime warranty. Within 1 year everyone in the LoL smurf industry was doing the same thing, although some of them don't honor it. This just goes to show how we're the League of Legends smurf industry leaders.
Not Just League Of Legends Accounts For Sale
We might be known for selling Unranked accounts, but that's not all we offer. We currently have an incredible LoL skin shop that is full of rare and legacy skins.
If you're looking for a skin that is no longer available in game, then don't fret. We have accounts with hundreds of skins just waiting to be played. Not only do they come with rare and legacy skins, but they also come with plenty of champions and Blue Essence. This Blue Essence can be spent in-game on whatever you want; it's totally up to you.
We also offer accounts for sale from all regions, including North America, Latin America North, Nordic East, Public Beta Environment, Europe West and more. All come with excellent buyer protections too and our industry leading delivery guarantee, backed up with full account details - and in some cases we can even complete placement matches for you!
So what are you waiting for? Buy a League of Legends account today and we'll see you on the rift summoner!
We also offer high level buyer protections with all major credit card types accepted and top class data security and security technology.
Frequently Asked Questions