Remember when you used to play football in the park with your dad? Times have moved on and it's time you do too.
Video games, hate them or love them, the chances are they play a major role in your kid's lives. With so many games available out there, on so many different platforms, growing up as a kid it's almost impossible to avoid them.
Video games to some parents are evil creations that corrupt their children's lives and waste their time. But are they really as bad as people make them out to be?
Not only can video games help educate children about certain topics, but they can also help bring families closer together. As the generation gap between parents and children grows increasingly wider, having something in common with your kids is essential in this day and age.
Have you ever considered playing video games with your children? Well maybe you should, there are plenty of good reasons why it makes perfect sense.
Educational Video Games
According to a study in 2016 by the Entertainment Software Association (ESA), more than 65% of American homes own a games console. But is this a bad thing?
You might think your kids spend way too much time playing video games but if you think it's harming their health, then think again.
Research by the American Psychological Association (APA) in 2014 concluded that video games could boost children's learning, health and social skills. Role playing and shooting games, in particular, can help improve cognitive thinking as well as problem-solving and social skills if playing online.
At the end of the day, most video games are simply just digital puzzles that require a particular set of skills to complete them. No matter if the player has the skills or not, playing the games will teach them the skills needed to complete it. As each type of genre (first person shooter, role playing, strategy) all require different skills to complete them, children can end up learning a whole range of valuable skills.
Another study published in the Social Psychiatry and Psychiatric Epidemiology examined the video game habits of more than 3000 children across Europe in 2010. The results showed that children who played at least 5 hours of video games a week had fewer psychological problems than students who didn't. In addition to this, they were also rated as better students by their teachers both academically and socially.
From the overwhelming number of scientific studies available online, it's clear that the video games are bad myth has been debunked several times already. Not only do video games help children develop their minds and skills, but they can also be a great activity to enjoy with parents.
Family Bonding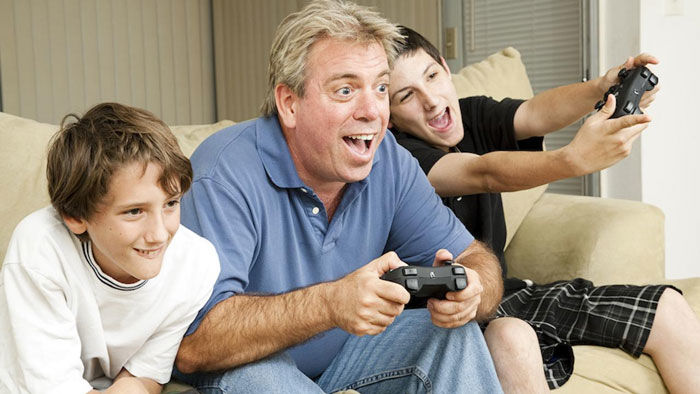 As video games have become more and more popular in the household, many parents are now joining in on the fun. A study carried out by the ESA said that 62% of parents whose children are gamers play video games with their children at least once a week. Who said only kids get all the fun?
When asked why parents played video games with their kids the top 5 reasons were:
It's fun for the entire family: 88%
Because they're asked to: 76%
It's a good opportunity to socialize with their children: 76%
It's a good opportunity to monitor game content: 59%
They enjoy playing video games as much as their child does: 57%
With the opportunity to bond with their kids, hang out and have some fun, playing video games are becoming the top social activity for family bonding time. This is probably because parents are starting to see the numerous benefits of video games in their child's life.
In fact, 68% of parents say that video games are a positive part of their child's life. Not only do they have fun playing video games but they also learn many new skills and abilities classrooms can't teach.
You Can Learn New Skills
If you're not up to date with technology and the latest trends then playing video games with your children can be an excellent way to learn new skills.
Take American actor and ex-sports star Terry Crews. Terry is a big family man and loves spending time with his children. He always put in the effort to play with his kids and gets to know them better, like any father would.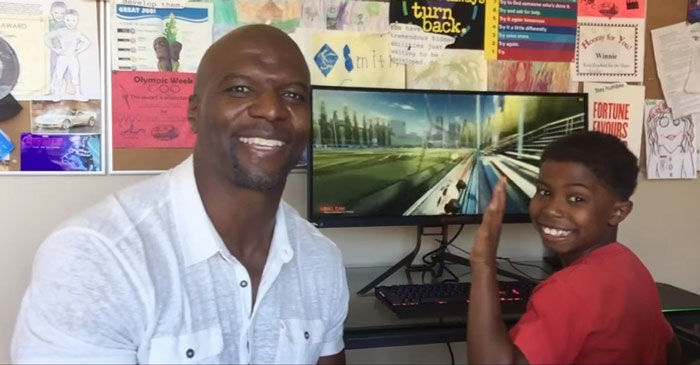 After noticing one of his sons had a huge interest in computer games, Terry decided to open himself up to his world and ended up learning new skills along the way. Since his son played a lot of games on the computer, Terry thought it would be a great bonding experience if they built their own PC together. Having never built a PC before in his life, Terry had to teach himself to build one so he could play games with his son.
After sharing his adventure online through his social media profiles such as Twitter and Facebook, many news outlets began to pick up the story including the Business Insider.
Speaking to the Business Insider Terry explained what made him build the PC with his son.
"I thought he was playing video games. And he wasn't. He was actually watching someone else play video games on the computer. I was like,"Wait, wait, you're not playing? He was like, "Oh no, this is so and so, he's the hit guy. He's playing ..." I said, I don't understand this. And I realized I was losing my son. I was losing him. And I said, I need to be a part of his world. I need to find out what he's about. I asked him what he liked and what he was about. And he was like, "I love games. I love video games. I love this whole thing." So I said, listen, not only are we going to get into the games, we are gonna build our own computer."
Be sure to watch the video below for a great interview on why he built a PC with his son.
Looking For a Game to Play With Your Kids?
There are so many games out there it can be hard to know which game to play. The chances are your son and daughter will already have a preferred game that they enjoy playing. However, if you're looking for a new easy game to play, then we have plenty of recommendations.
The first game on our list of recommended games is Overwatch. Released in 2016, this game has quickly become popular due to its range of characters, fun cartoon graphics and simple gameplay. The game is full of different map types which require players to either escort a payload or capture a point. With 24 characters to choose from, players must decide carefully which character they want on their team as each one has special abilities.
Available on PC, Xbox and PS4, Overwatch is a great fun game to play with your children. With a ranked and casual match mode, you don't have to take the game seriously to enjoy it. If you like unique shooting games that involve working together with your youngsters to win, then Overwatch is an excellent choice.
Next up on our list is Minecraft which you might have heard of. Released in 2011, Minecraft has sold over 121 million copies worldwide and is currently the second best-selling video game of all time. The game involves players taking control of a virtual sandbox world in which they can make anything they want. By placing blocks on the floor, players can build castles, houses, mountains, whatever they want! Similar to real life Lego, some players have even named it "virtual Lego".
Available on PC, MAC, Xbox and PS4, Minecraft is a very relaxing game that is a lot more casual than other games on this list. This means that no matter how bad you are at video games, you'll still enjoy playing it. If you feel like being creative and building a huge world with your children, then you'll have hours of fun with this.
If you enjoy cars and racing, then Rocket League is the game for you. With over 18 million copies sold, Rocket League has gained popularity with younger players due to its easy to grasp gameplay. Simply put the ball in the other team's net to score a goal. It's exactly like soccer, just with cars instead of players.
If you want to play Rocket League then can get it on PC, but you need a controller in order to play. The game is most popularly played on consoles such as Xbox and PS4 but thanks to its multiplatform network players can play against anyone on any console.
If you're looking for a fun game to play with your kids then Rocket League definitely ticks all the boxes. No matter if you're super competitive or just want to play a casual fun game, Rocket League lets you do both.
The final game on our list is League of Legends, a super popular multiplayer online battle arena that is played by millions of people per month. Although it has a much longer learning curve than the other games on the list, once you get into it, you might find yourself addicted.
Currently only available on PC, League of Legends requires a relatively powerful PC to play it smoothly. If you're up for the challenge, then you could even build a PC with your kids like Terry Crews did. Not only is it a great bonding experience, but it also lets you learn new skills and helps you get to know your kids better.
It's Your Turn To Pick Up the Controller
As you can see, there are plenty of video games out there for everyone, no matter how inexperienced you are. Your children had to learn how to play video games and so should you, that's the fun bit!
With so many hidden benefits of playing video games with your children, it's easy to see why it's becoming more and more popular in households. Not only does it give you lots of quality bonding time together, but your children can also learn new skills and abilities from playing games.
Now you know how beneficial playing video games with your kids can be, what are you waiting for? Grab that controller and go and have some fun!