If you're a big fan of League of Legends then you probably love collecting collectables. With so many things to collect and choose from it can be hard knowing what to buy next. To help you make the decision, we've found a whole range of keychains that you can add to your collection. From epic swords to cute Poros and champions, we've got an excellent list of the best League of Legends keychains you could ask for.

So stop embarrassing yourself with that boring set of keys, spice it up with some of these awesome League of Legends keychains!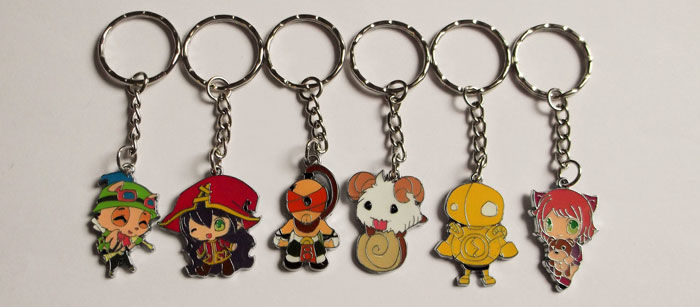 Starting off our list of League of Legends keychains is this epic line up for anime inspired characters. Featuring the champions Teemo, Lulu, Lee Sin, Poro, Blitzcrank and Annie, these little guys really make your keys look a lot cooler! Completely handmade from metal and enamel, the amount of detail on these keychains is absolutely stunning. No matter if you want to add some mini champions to your collection or give them to a friend as a gift, these keychains are ideal.

Everyone has a favorite lane in LoL, no matter if you love top lane or bottom lane, a lot of players take their role extremely seriously. To show everyone how serious you are about your role then there's no better way than with a keychain. Simply pop it on your keys and boom you can show off your lane with pride. No one will ever have to ask you what lane you play again, simply wave your keys in their face and let the keychain do the talking.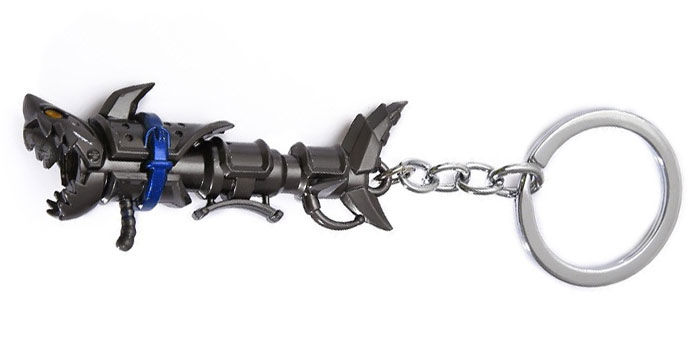 If you're a big fan of League of Legends and play in the bot lane then you'll probably love Jinx. Not only is she a high mobility ADC but she also deals lots of damage and has a great ultimate. If you love Jinx, then you'll love this rocket launcher keychain. Featuring Jinx's iconic cannon the keychain is made made entirely from alloy. With impressive detail and quality coloring, this cannon will be the highlight of anyone's keychain.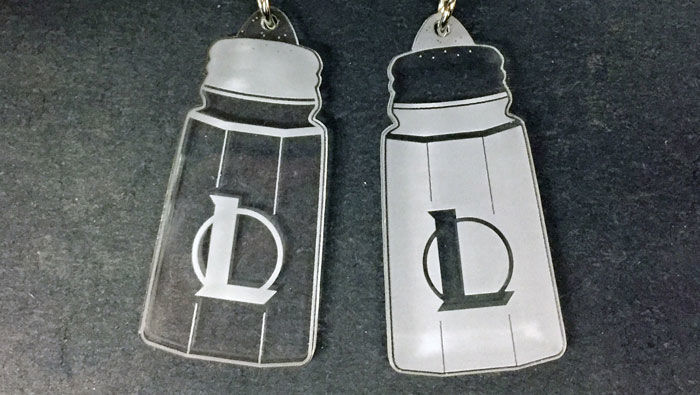 We all know how salty League of Legends can be, no matter if you're on the winning or losing team there's always that 1 salty guy on your team. This hilarious keychain takes the salty League of Legends joke to the next level. Available in 3 colors of black, white and crystal, this League of Legends salt shaker is the perfect gift for anyone who plays LoL.

Next up on our list of League of Legends keychains list is the mighty Sword of Demacia. Garen's favorite sword, everyone has felt the wrath of this baby at some point. Shipped in a collector's box and leaflet backing, this sword would make an awesome gift or addition to any keychain. At 6 inches long it's fairly long so be sure to make sure you have enough room to carry it around. If it sounds too large to carry around then don't worry, it also makes a great piece to go alongside your desk.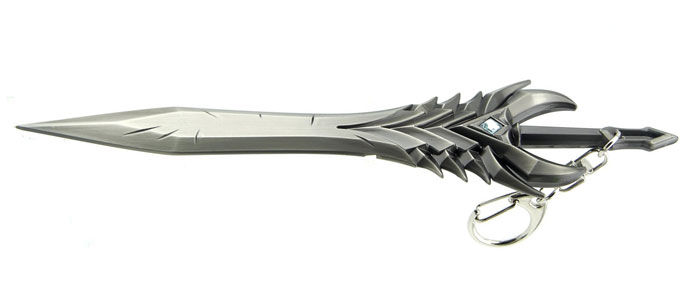 Another sword on our list, these swords are actually surprisingly popular and lots of LoL fans have them on their keys. Probably because when you have a 6-inch sword attached to your keys it makes it a lot hard to lose! This mighty sword belongs to the demon himself Aatrox and comes complete with an encrusted gem to give it a unique finish. On its own or with another sword, this magnificent blade looks good on any keychain.
Yarr me mateys, come and get yar hands on Gangplank's Cutlass! If you're a big fan of the saltwater scourge then you'll love this sword. Smaller than the other swords on this list, this Cutlass is just about pocket sized meaning you won't be wrestling a deadly weapon into your pocket every time you get it out. A nice golden bronze color, this Cutlass looks great on any set of keys you put it on. It also lets everyone know that you're secretly a pirate and yar be coming for their booty!
The final keychain on our list is this awesome Poro charm that is sure to brighten up your keys. Featuring 2 sides with a unique Poro on each one, this little chap is bound to put a smile on everyone's face. Handmade and set in a rubber coating, this guy is fully protected from the elements and is bound to last forever if you feed him enough Poro Snax. Although he sadly won't multiply, he'll certainly multiply your happiness. Available from Etsy, be sure to grab yourself one of these dudes before they all disappear.

We may receive compensation for any products you purchase after visiting links on this page. Every product linked or reviewed has been tested thoroughly by ourselves. Our potential compensation has no impact on which products we choose to promote or award high marks to – we only award high marks to the very best products.