If you've played League of Legends for long enough, then you probably know how expensive skins and champions can be. Champions aren't too bad because you can always save up influence points, but if you want a cool skin, then you'll have to use Riot Points.

These in-game skins can cost anything from $4 to tens of dollars. In fact, a Legendary skin can cost up to $25! With hundreds of champions and skins available in League of Legends, it would cost you a lot of money if you wanted to buy everything.
Luckily, there is a way to get considerably cheaper LoL skins and champions, which is perfectly legal.
As you've probably noticed by now, there are often sales in League of Legends on many skins and champions. These LoL sales change every week with new skins and champions being added and removed from the list.
If you want to grab yourself a bargain, then you need to look out for these League of Legends sales!
To help you understand what's on sale and how to find out what will be next in the sale, we've put together a handy guide. Are you ready to save yourself some serious money? Let's begin!
How To Find League Of Legends Sales
There are several ways to find the latest League of Legends sales. The first and most obvious is to log into LoL and go to the store. Obviously, this isn't fastest solution as logging in (and sometimes queuing) can be a pain.
The quickest way to find out the latest League sales is to head on over to the official LoL sale news on the Riot website. Every week Riot release a new post that outlines all the champions and skins that are on sale for that week.
We suggest bookmarking the page and checking it every few days to see if there are any new posts. In addition to the latest League of Legends sales news, it also keeps you up to date with any other store offers. Some offers in the past have been a free Demacia Hoodie when you spend over $65!
But that's not all.
Every month Riot release a skin sale schedule that basically lists all the skins and champions that will go on sale during the month. Obviously, they don't release the exact date, (that wouldn't be very fun) but you can find out a few weeks in advance what's going on sale.
These sales schedules are often released a month in advance, so if you're looking for June's upcoming sales, then expect a scheduled release in the first week of May.
If you want the freshest LoL sale news, then the official website is the best way to find out.
How To Predict What Will Be on Sale Next
If the skin or champion you want isn't on sale this week, then don't worry. Riot release new sales all the time, in fact, they do it every week!
If you're hoping for a particular skin or champion to go on sale then luckily there is a way to predict what will go on sale next.
LoL Skin Sale Prediction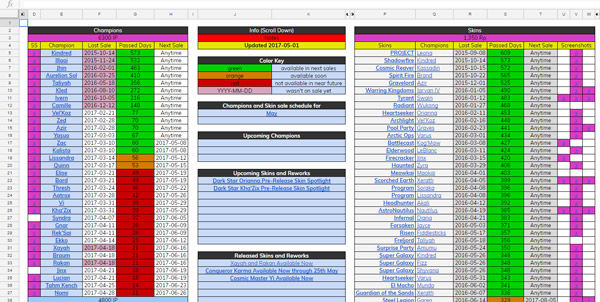 Some maths boffin has created this awesome LoL sales predictor sheet which is full of data and stats regarding LoL sales.
Not only does the sheet cover League of Legends skins but it also covers champions. To use the predictor, simply open it and find the section you're looking for.
Champions are on the left-hand side and are arranged by IP price. The champions at the top with a green color indicate it's very likely the champion will go on sale within the next few weeks. Champions that haven't been on sale for a long time are much more likely to go on sale in the future.
You can also see that the champions in red have recently gone on sale and therefore it's highly unlikely they'll go on sale again soon. By using this sheet, you'll have a good idea of when a champion or skin is likely to go on sale.
In addition to this, the sheet is also updated with upcoming skin and champion releases. Updated frequently, this sheet has a wealth of information that every LoL player needs.
Why Wait? Get Any Skin Today!
If you're waiting for a legacy skin to go back on sale again, then you're probably going to be waiting a long time. Although some skins do come back to the store, you could literally be waiting YEARS.
Take Championship Riven for example. Originally released in 2012 to celebrate the world finals, Championship Riven finally returned to the store in 2016, a whole 4 years later. If you don't fancy waiting 4 years, (or longer) for a skin to come back to store, then don't worry.
Head on over to our LoL Skin Shop to find our range of legacy skins and rare accounts.