Ever since the launch of League of Legends back in 2009, Riot have been rewarding players with free skins in a range of different ways. From recruiting your friends to finishing in Gold or above, claiming free skins was the number one priority for many players. At one point, it was actually possible to unlock a total of 6 different skins entirely for free!

Not only did this give many new players their first ever skins, but it also helped grow the popularity of the game immensely. With that being said, it seems that the days of Riot being generous are coming to an end.
When League was first launched, these special skin promotions where literally the only way to get free skins without splashing out on RP. But over the years, Riot has introduced plenty of new ways for players to claim free skins including Hextech crafting. Not only are the skins available from these new methods better than the classic Unchained Alistar and Riot Girl Tristana, but players can unlock multiple skins.
With this in mind, it's no surprise that Riot recently shocked many players by announcing the removal of promotional free skins. The removal will see both Unchained Alistar and Riot Girl Tristana head to the legacy vault while Dreadknight Garen will remain in the store for 975 RP.
The current deadline for the removal of the skins is the 1st August 2018 so make sure you've claimed all your freebies before then!
Claim Your Free LoL Skins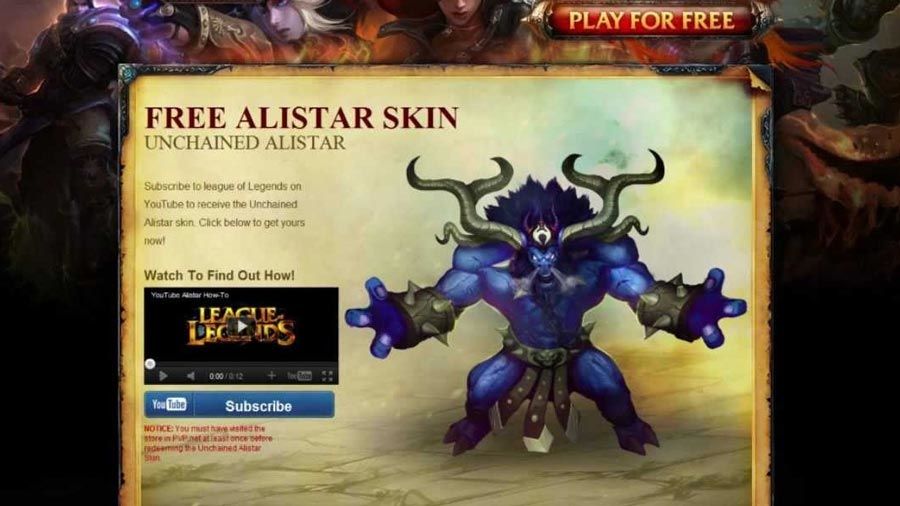 To make sure you unlock all the available free skins before they get sent to the vault, simply follow the instructions below to redeem them.
Go to the homepage of the Riot Support Site
Click "Login" in the upper right-hand corner
Enter your account details (the same details you use to log into the client)
Click on "Submit A Request" at the top of the page
Select "Free Limited Time Promotional Skins: Tristana/Alistar/Garen" in the drop-down
Check the boxes for the skins you want
Click "Submit"
You should soon (almost immediately) receive an email from Blitzcrank confirming the skins have been added to your account
It's really as simple as that. In the past, there have been various problems and bugs with players trying to redeem the skins, but it seems Riot have made it their priority to fix it. After all, with less than 1 month to claim the skins, Riot are expecting a large number of requests from eager players.
With nothing to lose what are you waiting for? Be sure to claim the skins on as many counts as possible before they are gone forever. Who knows, maybe you'll look back in the future and see yourself sitting on some rare skins. Don't say that we didn't tell you first!